Online Foreign Currency Exchange Service (Online FX Service) Real-time FX at your fingertip
Online Foreign Currency Exchange Service (Online FX Service)
Real-time FX at your fingertip
Online FX are now available on Fubon Internet Banking Service and Mobile Banking Service platforms.

Whether you are travelling overseas, making overseas payments or saving for the future, you can instantly transfer funds between self-name Fubon Bank accounts with different currencies through Online FX Service during service hours*. You can easily trade 10 major foreign currencies# with HKD, USD or RMB at real-time foreign exchange rates and you are able to trade with maximum HK$1,500,000 or equivalent per day.

*Hong Kong Time: Monday to Friday: 9:00am- 6:00pm (except non-business days)
#Major currencies include HKD, RMB, USD, JPY, GBP, CAD, AUD, NZD, CHF, EUR and SGD.
Note:

Foreign currency exchange is subject to Foreign Currency Exchange Risk. The value of your foreign currency deposits will be subject to the risk of exchange rate fluctuation, you may suffer losses.


Foreign Currency Exchange with just few steps
Foreign Currency Exchange with just few steps
Step 1: Logon to Fubon Internet Banking Service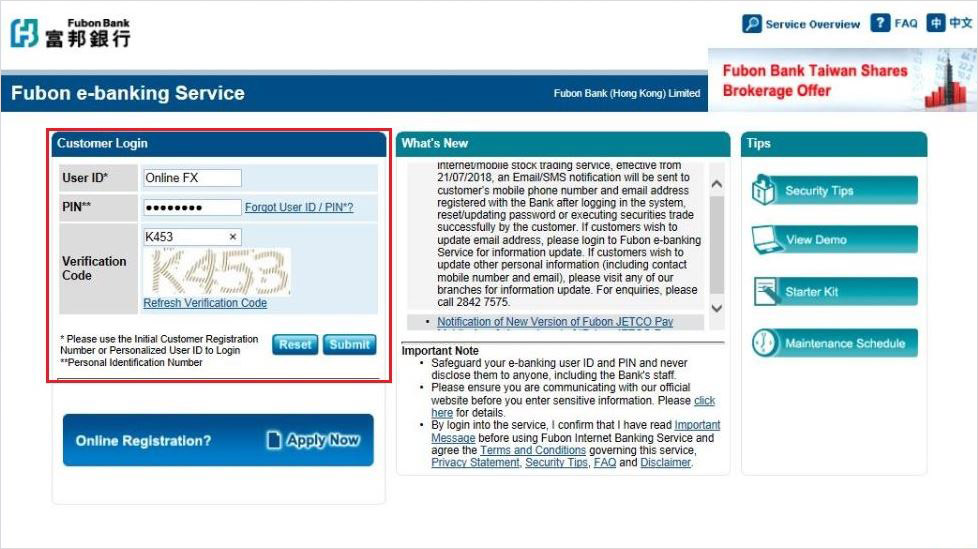 Step 2: Press "Foreign Currency" on the side menu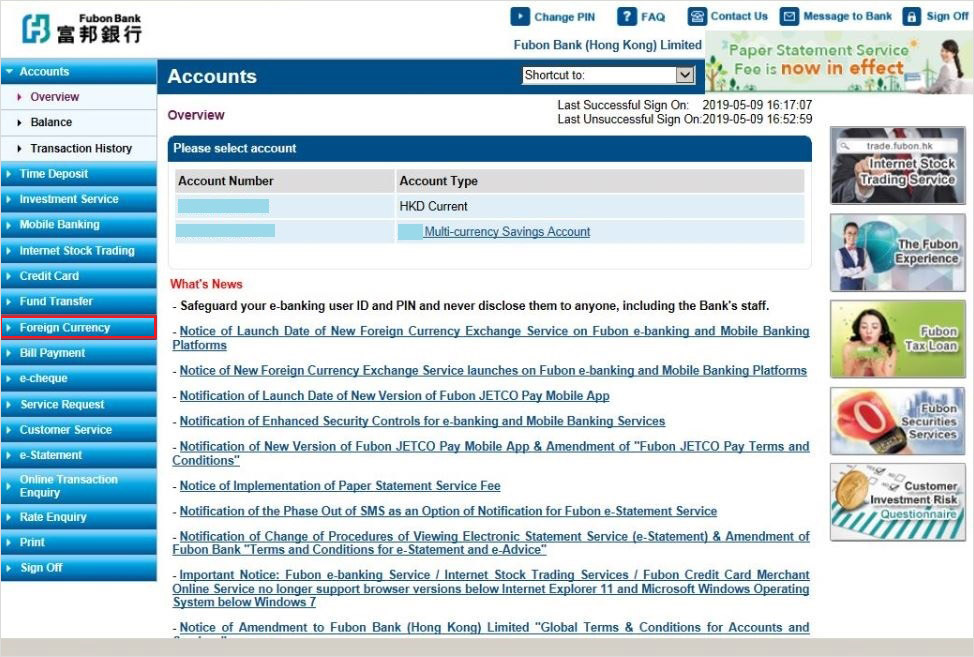 Step 3: Choose self-name Fubon accounts with different currencies as debit and credit account, then input transfer amount and click "Get Rate"
Step 4: After getting the real-time exchange rate, click "Confirm" to process the transaction. If you would like to get the most updated real-time exchange rate again, you can click "Amend" to update the rate.
Step 5: A reference number will be displayed on screen after the transaction is complete. Please keep this reference number for future enquiry. You can click "Another Transaction" to place another currency exchange transaction.